MAMAS IN MANHATTAN
well, let's say this was a much deserved trip for us mamas!
we needed a getaway from our daily wives lives and mom moments. i was excited when my friends had asked me if i wanted to join them on a trip to the big apple, and how could i say no to some good catch up time with my girls.
the weekend was full of endless giggles, cries over kati rolls, bimbo moments, lots of lates nights, rise & shine mornings (mainly me) & espresso shots!
check out our mama's in manhattan weekend away!
off the beaten path of nEW YORK CITY
sINCE THIS WAS MY THIRD TRIP TO NEW YORK CITY, i wanted to explore other parts of nyC besides the tourist attractions which are also awesome of course, and a must do in ny, however, this girly trip led us to some great "sexy and the city" locations, sipping cosmos and climbing met steps of the metropolitan museum while also adding some fun rooftop bars and yummy bakeries!
check out some of my favourite spots when your'e in nyc next!
Highly recommend staying at this newly refurbished and newly named hotel, the fancy FENDI benches and bath tub goals overlooking spectacular views of the Manhattan city.
This hotel allures a great ambiance of sophistication and luxury while convenient location to the Subway.
P.S/Fun Fact! They do not have doors for the bathrooms so make sure you are more than comfortable with the people you are going with!
CARRIE BRADSHAW'S APARTMENT
66 Perry Street, New York, NY - West Village
This a must go if you are a big "SEX AND THE CITY" lover! We originally didn't have this place even on our itinerary but our late nights led us to finding the actual apartment of Carrie Bradshaw!!! This made our mamas trip!
Highly recommend taking a trip down there!
Firstly, RESERVATIONS!!!
Make sure to book a morning breakfast or early evening spot at this swanky hotel, the views are just ridiculous!
Great place for date nights and some catch up time!
Again not off the beaten path at all- if anything a MUST do when in NY!
Best place for the amazing views of the concrete jungle!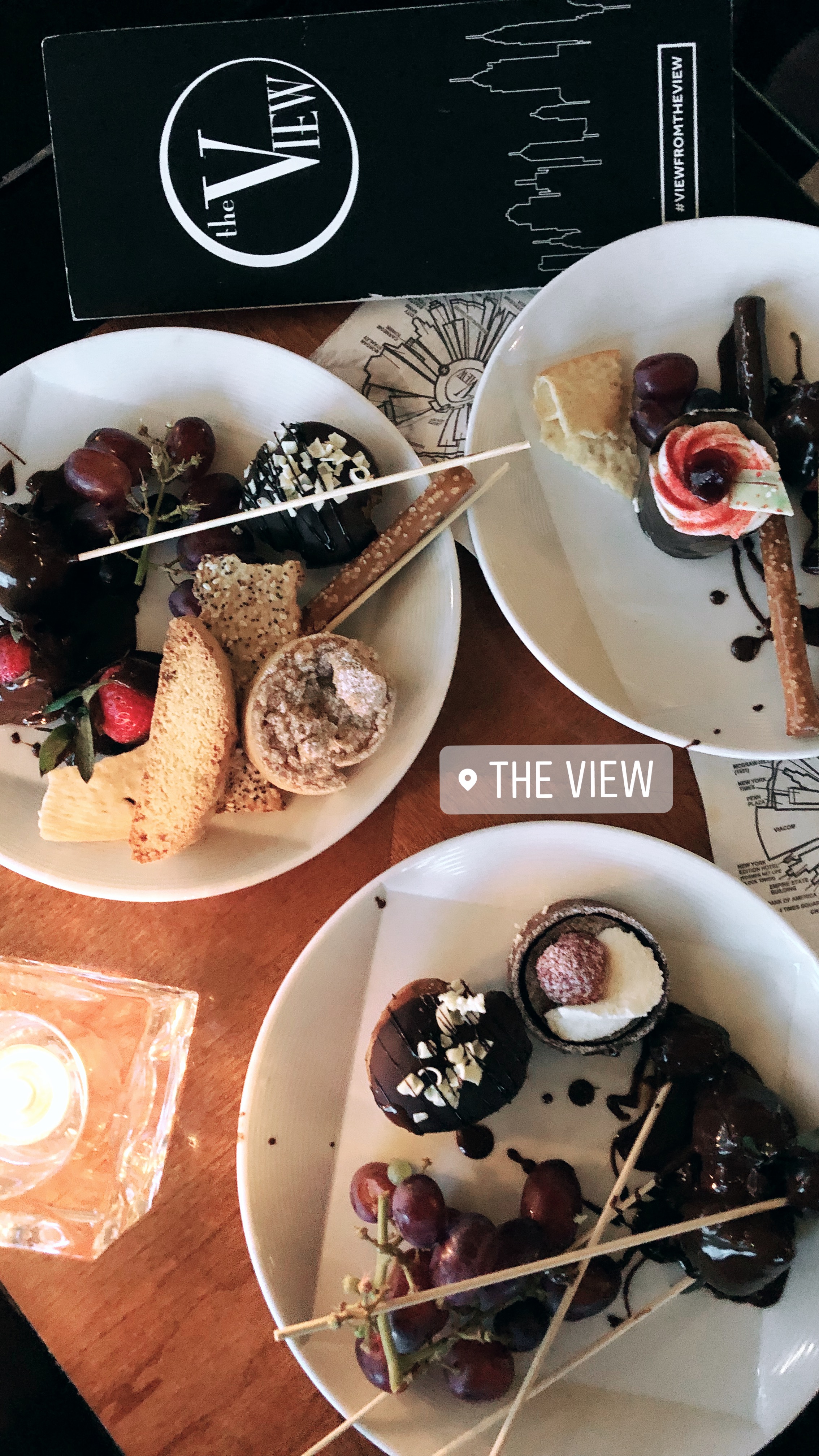 #viewfromtheview
Whenever me and my husband travel to a city, we always tend to look for date night places with a view, and they usually just so happen to be a revolving restaurant!
Although not one of my favourite revolving restaurants, (due to obstruction views of the building being inside of another building) however, a great place to go for fine dining or buffet desserts with a view of the TIMES SQUARE! A much quieter way to really enjoy Times Square without the hustle and bustle!
If you love cookies and you don't mind waiting in line for an hour or two for some ooey gooey cookies, and "the best cookies in NY" this is your place.
P.S Wrap up warm, wear some comfy footwear and grab your favourite partners in crime to make the time go faster!
Well, if it isn't the Cronut KING bakery!
This is the first bakery opened by Dominique Ansel where his signature creations of Cronuts, cookie shots, frozen s'mores and all other yummy goodies! Perfect breakfast spot, lucky for us our hotel was only minutes away.
Ps. My favourite was the blooming hot chocolate if it tickles your fancy!
Besides the fact, I was smiling with joy while trying to not get hit by a car in the process of my girlfriends taking candid pictures of me; Eataly is a great for spot for when you have no clue what to eat for lunch and it's in a great location- right across the famous Flat Iron Building!
Endless options of artisan Italian pasta, pizza, coffee. There is also a rooftop bar located in the Eataly building for that NYC outdoor dining feel!
Ok, so not the off the beaten path, but can you blame us?
The famous DUMBO spot in Brooklyn is located on Washington street, the intersection of Water Street (or thereabouts) is a prime place to stand for that perfect Instaworthy shot!
A perfect spot to really capture that Brooklyn vibe, while juggling with other photographers to really capture that perfect picture!
This was my new favourite part of NYC!
New York is known for it's rooftop bars, but I was wowed by this brick arched skeletal bar with awe-inspiring views of the Manhattan skyline and instaworthy photo opts, this place was my number 1 go to on the list!
Make sure to check out this hidden gem!
P.S We may or may have not climbed through a window to get onto the rooftop bar for that perfect shot!