for the love of food!
Nothing says love more than a romantic date with your partner or loved one and some delicious food!
i'm always on the hunt for "spicing" things up on date night by trying out some new places. and have been asked by many to "help a girl/brother out" when planning that romantic night out or cute sunday brunch with there partner. so I HAVE PUT TOGETHER SOME OF MY fun date night options in sf! enjoy! xo
Anyone who knows me, knows this is one of my favourite 'local' places to go, even if it means to get a cup of coffee & there banana & coconut fritter desser. This awesome restaurant is built on water, has views of the bay, while also looking out to the adorable hills of Sausalito. You would think were sitting admiring the view in Positano. My first actual date here was with with my Mother bear, she loves a good view and a cup of cappuccino, so this was perfect! When she came to visit we walked downtown and admired the cute little shops that had a water view. We then went midday, "while everyone was still at work" so we got the best view in the house since it was pretty empty. To this day, it's one of my favourite memories of when my mother came to visit.
Tip: Asked to be seated by the table behind the cashier near the arched windows for that romantic cosy spot overlooking the town (pictured above) while the water glistens over. It's my ultimate favourite spot!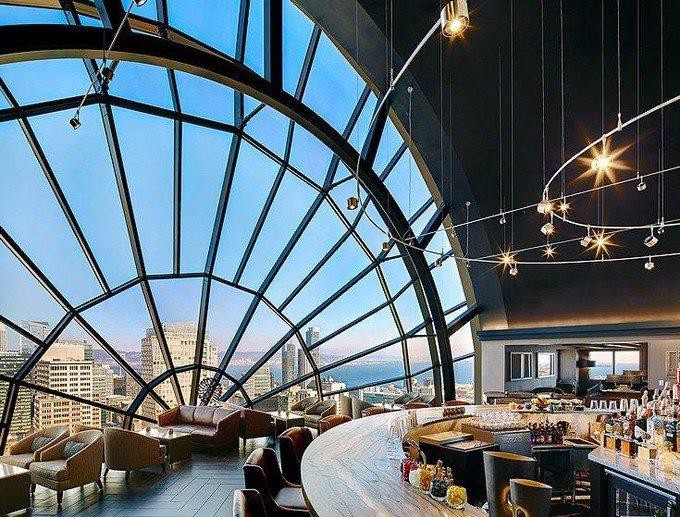 THE VIEW, MARRIOT MARQUIS, San Francisco, CA
A friend recently messaged me asking me for date night ideas for her upcoming anniversary, so I had to get my thinking cap on for all the places I have been & what stood out to be the perfect place for a romantic anniversary night? Well, I have not been to THE VIEW, since I had my toddler, however, it was one of our favourite places to go for a special occasion or a romantic night out. My husband introduced me to this place by surprising me to a late night dessert here a few times. It became one of my favorites (after the revolving restaurant closed down on us!) Make sure to call in for reservations and get some yummy chocolate fondant dessert.
Tip: Go a little earlier than 5pm if you can, to get the best seat in the house and enjoy the sunset from your table while overlooking the beautiful city of San Francisco.
AUGUST 1 FIVE, San Francisco, CA
So recently stumbled across this place while walking past it with a bunch of girlfriends one night, the Indian turban man's poster really stood out to us and we wondered what they had! A friend looked up the yelp reviews and pictures and to our surprise the food was our kinda food! Indian gujarati with a modern twist! I had to bring my hubby here since he is a major Indian food lover. I was excited to try there fun twist on foods that is so in the norm for us. There menu looked so fun, the gol guppa flight was pretty to look at and loved the concept (wish they had sweet yogurt for me on the side) but i'm not a fan so I didn't love it, but the dhokla and paneer were "bomb" as my husband would put it! We ordered there mini naans too, they're tiny but super filling.
Tip: I made a reservation for us and asked to be seated at the blue velvet booths, so make sure to get that cute velvet booth for a cosy romantic date night vibe! You will feel like you guys are the only ones at the restaurant!